15 July 2022
Leveraging JWST's Success to Advocate for the Future: A Round-Up and Analysis of the Image Release Week

Julie Davis
American Physical Society (AAS)
Unless you are so off the grid you couldn't be reading this blog post, you've probably been inundated by the wall-to-wall coverage and festivities surrounding the long-awaited release of JWST's first science images. Astronomy is having a media "moment," with glorious new high definition space photos gracing Times Square, the Google Doodle, stadium-sized music concerts, and pretty much every major media outlet the world over. Social media is on fire with celebrities, politicians, and well, just about everyone else admiring these new cosmic vistas.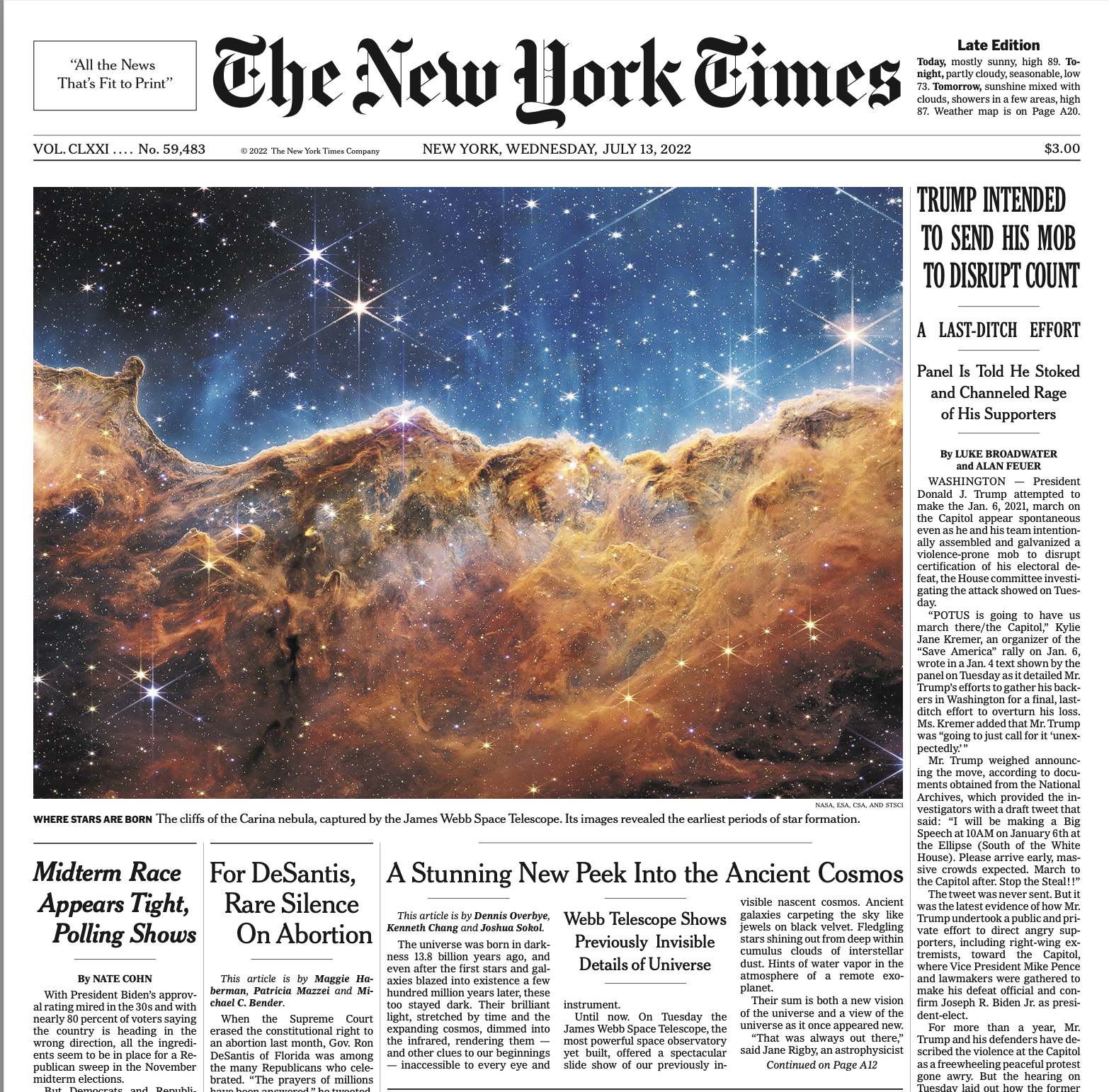 While we collectively nerd out, this is also a crucial moment for science advocacy. Current events drive the highest levels of government, and JWST is a rare moment of hyper-focus on astronomy. Astronomers and space advocates are working this to their advantage, but we are also seeing politicians doing the same! In this blog post we will explore a few of the events that occurred this week and what they mean in the broader context of current policy maneuvering on the Hill.   
Monday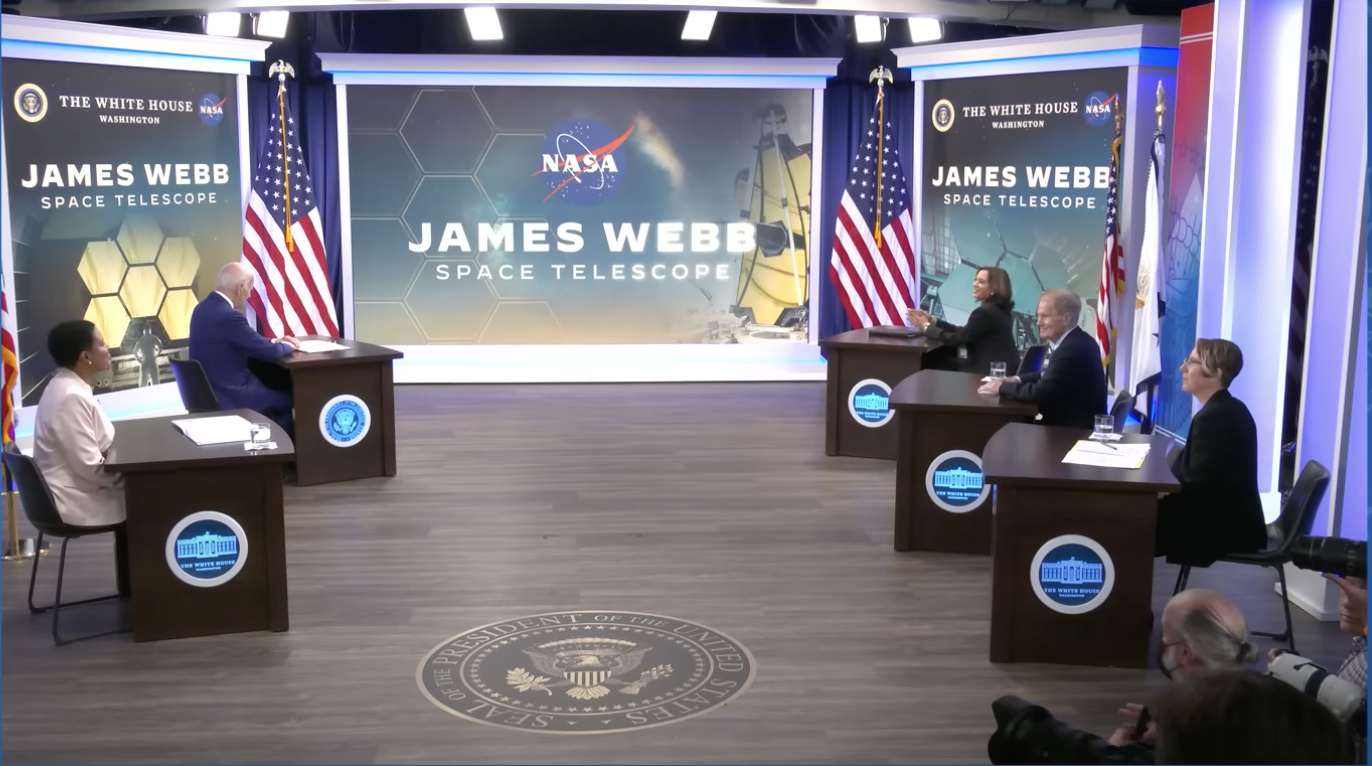 On Monday evening, a last-minute Presidential briefing in advance of the official Tuesday release day took most of the country by surprise. This briefing was organized by the White House Office of Science and Technology Policy Assistant Director for Space Policy, Ezinne Uzo-Okoro, and represents a significant investment of political capital. Through the President's stated priorities and the President's Budget Request, there has been little to indicate that the administration cares about astronomy, so the fact that both Biden and Harris were present was a significant achievement. JWST Project Scientist and AAS Board of Trustees member Jane Rigby, who was honored with the opportunity to brief the president, described how "[the president and vice president] asked so many questions and were astounded that we can see back 13 billion years & study exoplanet atmospheres."  This insight into the administration's interest is an important piece of knowledge we can use for future advocacy efforts!
Some astronomers on social media expressed dismay with what they saw as "nationalism" in the president's words. While this assessment is fair from our internationally collaborative, scientific perspective, his words were largely in line with wider strategies to try and advance science policy, as well as call outs to the administration priorities. Below is a small selection of quotes, and a bit about what they're saying between the lines:
"This telescope embodies how America leads the world, not by the example of our power, but by the power of our example."  
"These images are going to remind the world that America can do big things"
"This telescope embodies the relentless spirit of American ingenuity"
"…a reminder of what more we can discover, not just about distant places, but about our very own planet and climate."
The first two quotes are a classic example of the concept of "soft power," which has been historically used to justify astronomy and other non-applied sciences to US politicians who might not be intrinsically interested in science, but do care about national security. They also fit in with the White House priority on "restoring America's global standing." Such non-military demonstrations of science and technology promote admiration and attract talented workers, which in turn advance government foreign policy and economic goals.
The third and fourth quotes are call-outs to White House priorities for revitalizing the American R&D enterprise, and a commitment to combatting climate change. These quotes demonstrate that, just like the briefing was good for getting astronomy topics attention, it was also an opportunity for politicians to promote their own agendas. Mutual benefits make public policy possible, even when some of the rhetoric can be hard to swallow as a scientist.
Tuesday Morning
Image release day was a global celebration, with a large-scale production based out of the NASA Goddard Space Flight Center in Greenbelt, Maryland. Your AAS Public Policy team was lucky enough to snag an invite, thanks to the advocacy work Deputy Director Bethany Johns did back in 2010-2012 as the Bahcall Fellow helping to save JWST from cancellation.
Before the images were presented, we heard from many of the people that helped make JWST possible. Nobel Laureate and JWST Senior Project Scientist Dr. John Mather brough scientific gravitas and explained a bit of the story behind JWST, with a special shout-out to former Senator Barbara Mikulski. Senator Mikulski is an example of the impact one single, dedicated person can have when it comes to advocating for science. Dr. Mather explained that "She saved our telescope, and the telescope before it" by fighting for the servicing mission to correct the flaw in Hubble's mirror, and by getting resources for JWST when it was struggling against cancellation threats. When you're downloading your new JWST data from MAST (the Barbara A. Mikulski Archive for Space Telescopes), remember the debt of gratitude we owe her!
We also heard from current Maryland congress members Rep. Steny Hoyer, Sen. Ben Cardin, Sen. Chris Van Hollen, and Rep. David Trone. The Maryland delegations, of which Mikulski was also a part, have been staunch advocates for astronomy. If you live in Maryland, send your Congress members a thank you for their support!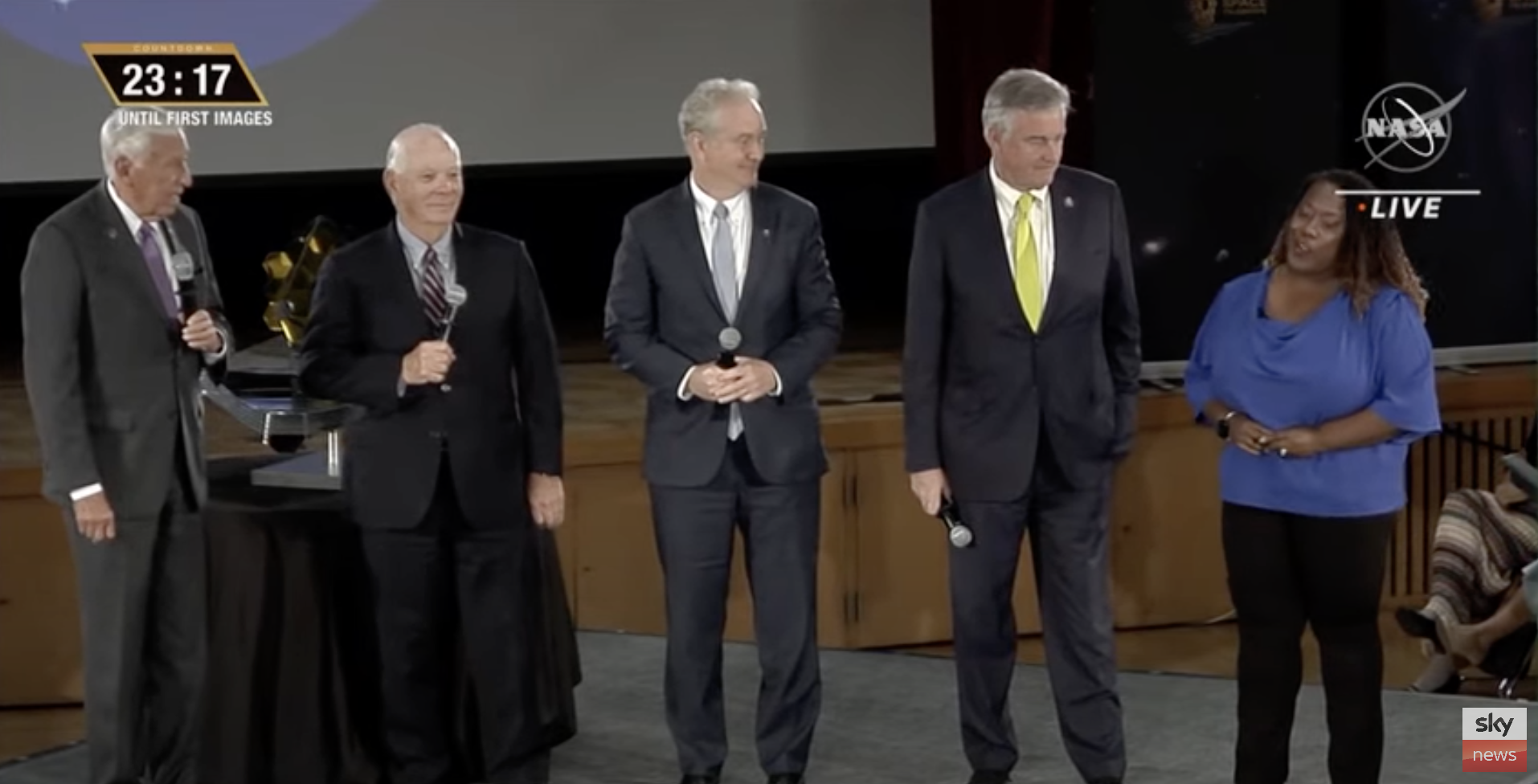 NASA Administrator Bill Nelson gave remarks which also gave insight into his overall vision for the agency, and some of the policy challenges now that JWST is fully operational. Space news journalist Jeff Foust summarized Nelson's remarks and their broader context on SpaceNews.com. Nelson is clearly capitalizing on JWST's success to advocate for the rest of NASA, describing how he told Biden during Monday night's briefing: "Mr. President, I could use a little help with the Office of Management and Budget in your White House." The Office of Management and Budget, which puts together the President's Budget Request, is perceived by many space policy advocates to be balking at the idea of further science funding in the wake of budget challenges for JWST. A brief report by the Government Accountability Office reminds us that the government hasn't quite forgotten some of the budget overruns and missteps made during the mission development just yet.
Tuesday Evening
After the big celebration at Goddard Space Flight Center, the Public Policy team also attended a Congressional briefing at the Rayburn House office building. This was one of the first in-person briefings since the COVID-19 pandemic began, and the event was well attended. Congressional staffers mingled with industry representatives and astronomers while we all marveled at the new images together. Representative Brian Babin (R-TX), ranking member of the House Science, Space, and Technology Committee Space and Aeronautics Subcommittee gave remarks praising the achievement despite its price tag.
What Now?
Capitalizing on this attention, the AAS Public Policy team is using this opportunity to advocate for the next steps for astronomy, as laid out in the decadal surveys. With meetings planned at the executive branch offices and on both sides of Congress next week, we hope to amplify the stunning success of JWST and leverage it to hopefully garner more resources and support for future projects. The public policy team will ally with fellow advocates from The Planetary Society at an event for Congressional Staffers next week. Of course we will also work with our AAS members to continue amplifying the message of why we build telescopes, and the importance of starting on Astro2020 priorities now. Keep an eye on this blog for future developments!