8 August 2022
Making the Case for the Future of Astronomy
Yaswant Devarakonda
American Astronomical Society (AAS)
On Wednesday, July 20th the AAS public policy team brought a group of members to the Hill to meet with the White House Office of Science and Technology Policy (OSTP), the Office of Management and Budget (OMB), and congressional committees. The visit was timed to capitalize on the success of the James Webb Space Telescope (JWST) and the associated attention on astronomy inspired by the image release on Tuesday, July 12th. The overall goal of the meetings was to advocate for future support for astronomy and the decadal priorities, in both the short term (i.e., FY23 appropriations) and the long term.
Alongside the AAS the public policy team and President Kelsey Johnson, three early career AAS members were invited to DC to share their experiences, hopes, and concerns with the Executive Branch offices and congressional committee staff. Utilizing their training from this year's Congressional Visits Day, they advocated for resources and support for the astronomical sciences. The early career members also assisted in presenting a gift of two framed 3'x3' JWST images, graciously provided by the Space Telescope Science Institute. 
Below is a first-hand account of the experience from one of the early career members, Yaswant Devarakonda. 
---
I grew up just down the road from the Johnson Space Center in Houston. Anytime there was a field trip or a family member visiting, or when my parents just needed to keep me busy during the summer, we would spend the day there. With every visit, I would be filled with a sense of awe and wonder at our attempts to explore what was beyond our own planet and how little we actually understood the universe. I also learned the importance of having strong allies in the government; Houston was selected as the center for human spaceflight due to advocates like Vice President Lyndon B. Johnson and several other prominent Texans in Congress.
A few months ago I got the chance to become an advocate myself by participating in the 2022 AAS Congressional Visits Day (CVD). We spent two days learning all we could about the federal government; my head was swimming with acronyms, agencies, and appropriations. Then we went on a whirlwind tour of Capitol Hill, going office to office to sell members of Congress on the future of astronomy amidst varying levels of security and COVID protocols and the daily hustle and bustle of Congress. There was also an air of excitement; the offices were more than happy to take a break from economic disputes and supply chain issues to talk about space, especially since this was the first in-person meeting for many of them in months. I flew back to Texas that night feeling immensely gratified that I was able to take a part in the whole process. 
A few weeks after the trip I received an email asking if I wanted to return to DC on behalf of AAS to talk to the White House's Office of Management and Budget (OMB) and the Office of Science and Technology Policy (OSTP) about the recent release of JWST images and the future of science funding. I don't think I've ever cleared my schedule as quickly as I did then. The new meetings required new training; Congress may write the legislation to fund science but these were the offices that advise the president, set funding priorities, develop the budget, and oversee federal agency finances for science. While congressional staffers are rarely scientists and handle hugely varying issues ranging from agriculture to cybersecurity, these were professional scientists turned civil servants. 
Luckily for us, the beauty of the JWST images and the public's response made our job a little easier. We even gifted two massive, framed photographs to the offices, one of the Carina Nebula and one of the SMACS 0723 Cluster. The photos ended up delaying us in security as they were tested for hazardous material by swab tests and K9 units since they were too large to fit in the X-ray machines. During the meeting, we talked about the amazing potential of JWST, what it meant for us as early career scientists, and what it meant for the world to look at these images in awe. We ended up talking a lot about awe, how it inspires curiosity, how it grants a new perspective on life, and how it provides something for people to bond over.
We also talked about the challenges in this new "Big Data" era of astronomy. Every JWST image is a deep field, filled to the brim with detail and potential. Upcoming projects like the Rubin Observatory will generate unfathomable amounts of data that will require a massive leap in computing capabilities. To tackle the mountain of data, the next generation of scientists will need to be trained in special data science skills, which takes time and resources to learn. But the funding for those opportunities has been limited, and researchers are leaving in droves for tech companies who are more than happy to invest in their potential. While they've been aware of this issue, after hearing our first-hand experiences they seemed eager to help find solutions, and I left the meeting with a lot of hope for the future.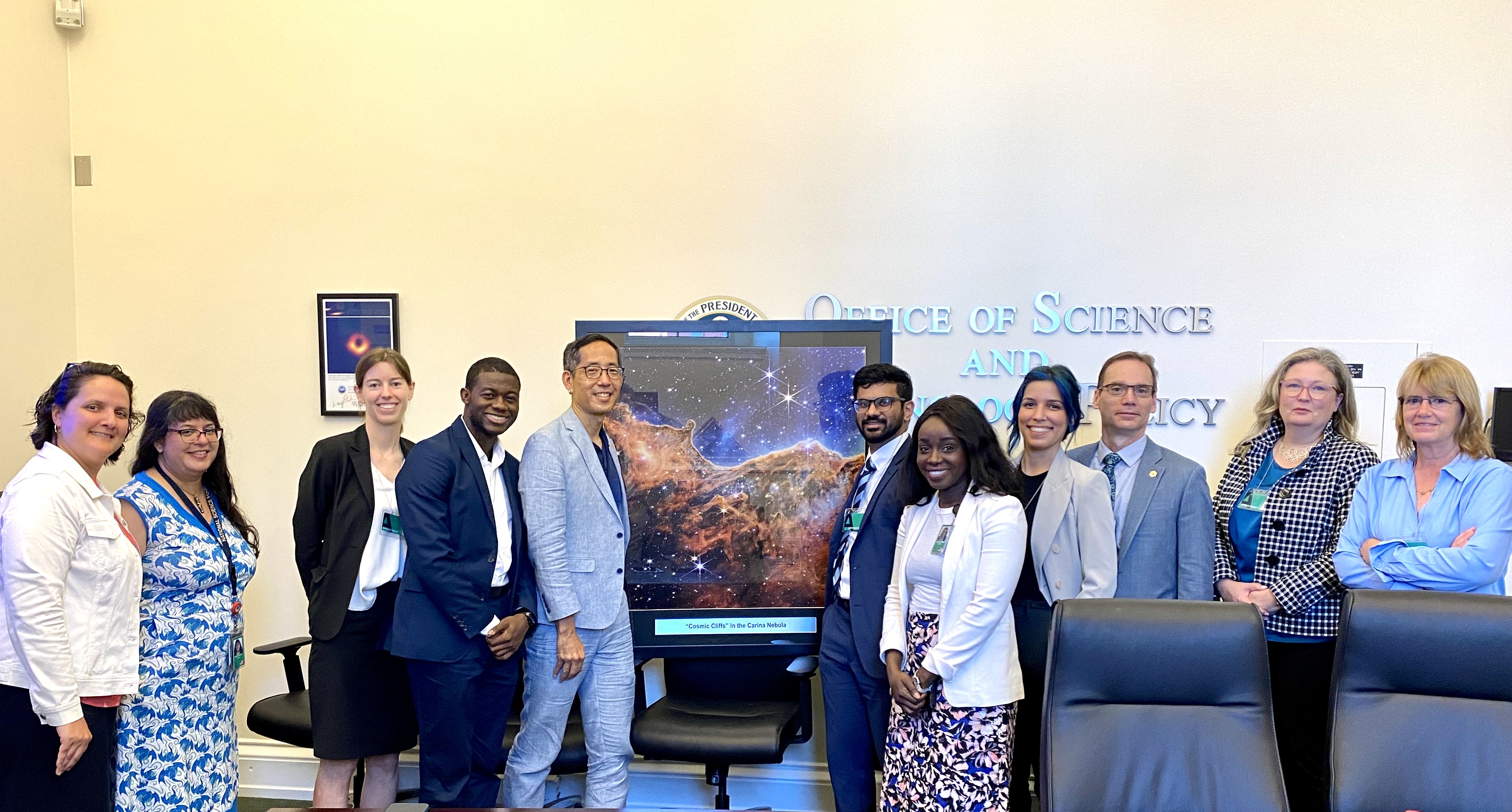 After a quick lunch break, we headed over to Capitol Hill to talk to the House Space, Science, and Technology (SST) and the House Commerce, Justice, and Science (CJS) sub-committees. The first handles authorizations (let's do X) while the second handles appropriations (let's fund X). It was amazing to see how much had changed in a few short months since my last visit. During CVD, I had a Zoom meeting in the abandoned cafeteria of one of the House office buildings; the kitchen was still closed due to COVID and most of the staff were working remotely. This time the cafeteria was buzzing with energy, and staffers were grabbing fresh pizza while catching up on the latest NBA trades and negotiating bills. We had our SST meeting in the middle of the room; I gave my pitch and listened to the SST staffers and our AAS policy experts discuss upcoming bills and resolutions while I tried my best not to get lost in the lingo or get distracted by the activity around me. 
Our CJS meeting took place in the US Capitol building. As I walked down the halls surrounded by massive statues, marble columns, and marvelous paintings, I thought back to our conversations about the power of awe. It seemed as if every part of the building was designed to remind you that this was the seat of power for the country, that the decisions made here would have a wider effect and would require a greater responsibility than anything I had done before. During the meeting itself, we talked about ways to get our goals approved and funded by congress. The most effective method, according to the staffers, was to simply tell them our stories. Representatives are always dealing with a ton of issues and get all sorts of facts and figures thrown at them; what really makes them pay attention is the human element. If we can make it clear how important these issues are to us, then it will feel important to them as well. And if it becomes a priority for just a few congresspeople, then it becomes a priority for all the federal agencies and committees involved. 
For a second time I flew back to Texas feeling gratified, this time with a new sense of understanding of the processes that allow me to attend graduate school and study what I love. The next day I started sharing my experiences and other resources to get the folks in my department engaged in policy. A lot of them had felt as if they couldn't have an effect on policy, that their voices would get lost in the noise. But by discussing the topic directly with them, I was able to mobilize and energize them into taking action. There's a reason that so many political campaigns have been taking a grassroots approach; that human connection is integral in motivating people. And if we as a community want to affect change and further the field, we need to start by having conversations with those closest to us and telling our stories. 
Related Post