15 March 2023
Congratulations to the AAS 241 Chambliss Student Award Winners

Tom Rice
American Astronomical Society (AAS)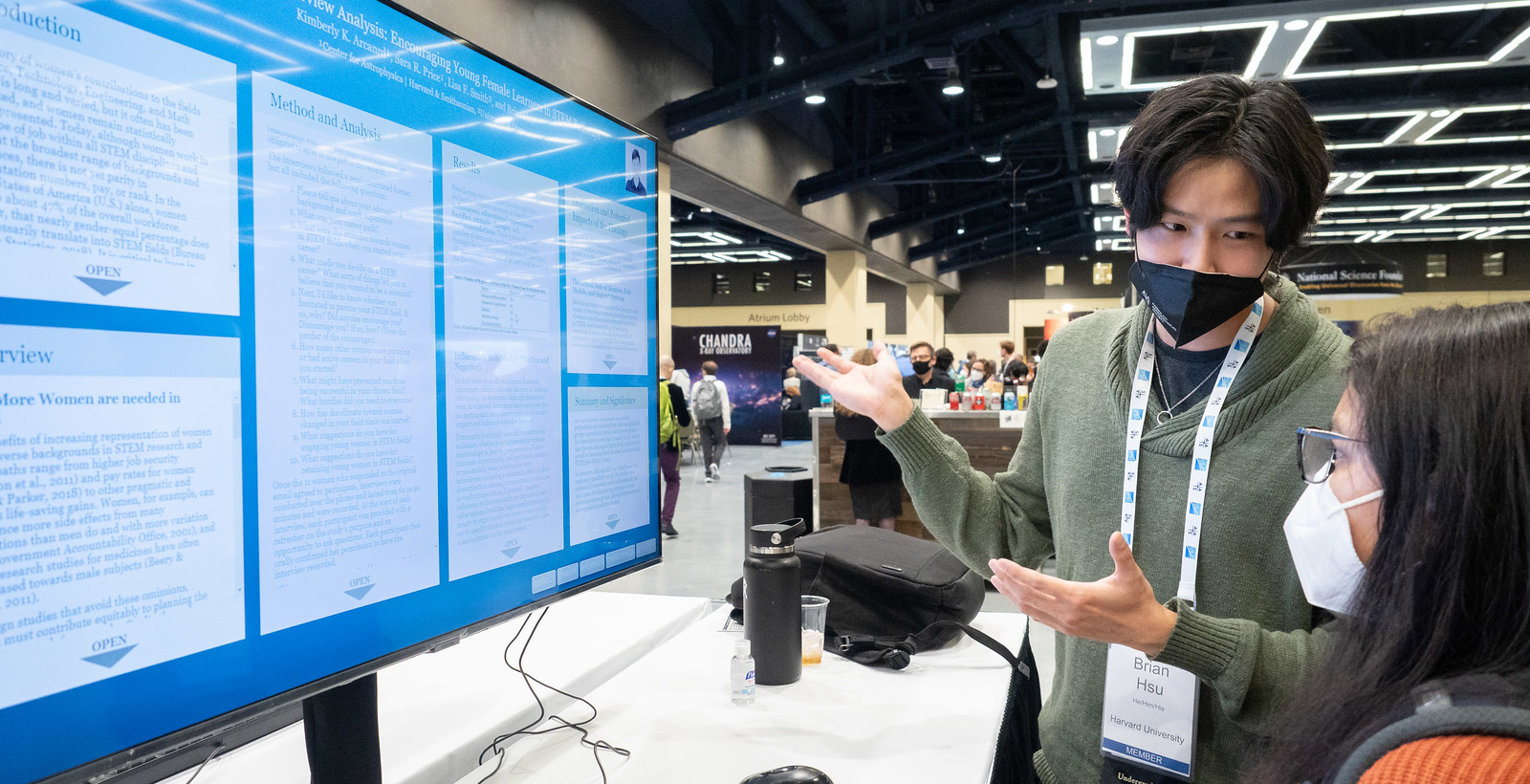 The latest Chambliss Astronomy Achievement Student Awards poster competition was a success, and we at the AAS are excited to announce the winners of the competition! The following winners presented their posters at our 241st AAS meeting in Seattle, Washington, in January 2023. The competition is only possible because of the hard work of our many judges, so if you haven't signed up to judge student posters in the past (or in a while), I encourage you to do so in the future. Your next opportunity will be at the 242nd AAS meeting in Albuquerque, New Mexico, in June 2023.
Here are the Chambliss award winners from Seattle:
Graduate Student Chambliss Award Winners
Alex Haughton (University of Colorado)
Amanda Broadmeadow (University of Maryland)
Ashley Walker (Howard University)
David Shaw (University of Notre Dame)
Emma Louden (Yale University)
Evan Cook (University of Wyoming)
John Dorigo Jones (University of Colorado)
Lori Huseby (University of Arizona)
Margaret Johnston (University of Nevada)
Natalie Myers (Texas Christian University)
Riley Owens (West Virginia University)
Undergraduate Student Chambliss Award Winners
Aadya Agrawal (University of Michigan)
Anavi Uppal (Yale University)
Anna Tosolini (Williams College)
Doni Anderson (University of Michigan)
Jaelyn Roth (Denison Univ.)
Jupiter Ding (Princeton University)
Logan White (North Carolina State University)
Mabel Stephenson (University of West Georgia)
Miguel Montalvo Hernandez (University of California)
Shalini Kurinchi-Vendhan (Caltech)
Shreya Karthikeyan (University of Maryland)
The following graduate and undergraduate students received an Honorable Mention in the Chambliss competition.
Honorable mentions for undergraduates and graduate students
Aldo Sepulveda (Institute for Astronomy)
Alycia Lipscomb (Carnegie Observatories)
Amelia Zhao (Carnegie Observatories)
Austin Rothermich (CUNY Graduate Center)
Autumn Pearce (Yale University)
Bhavya Pardasani (University of Illinois)
Boaz Shaham (Columbia University)
Claire Zwicker (Illinois Institute of Technology)
Courtney Klein (University of California)
Daisy Bissonette (Princeton University)
Daniel Johns (Georgia State University)
Dominick Rowan (The Ohio State University)
Ema Vo (Carnegie Observatories)
Federica Chiti (Institute for Astronomy)
Gabriel Freedman (University of Wisconsin-Milwaukee)
Ishan Ghosh-Coutinho (University of Washington)
Isiah Holt (University of Maryland)
Jaren Ashcraft (Wyant College of Optical Sciences)
Jay Baptista (Yale University)
Jaya Nagarajan-Swenson (University of Virginia)
John Franklin Crenshaw (University of Washington)
Kingsley Ehrich (University of California)
Michael Hardegree-Ullman (The University of Arizona)
Michael Rosenthal (University of Wisconsin-Madison)
Nicholas Ferraro (UCLA)
Nicole Gountanis (Princeton University)
Peter Hartman (University of Arizona)
Peter Wysocki (Georgia State University)
Phoebe Heretz (SUNY New Paltz)
Rewa Clark Bush (Wesleyan University)
Rohan Pattnaik (Rochester Institute of Technology)
WeiLeong Tee (University of Arizona)
William Taylor (Colorado College)
Wolf Cukier (Princeton University)
Congratulations, all!
On behalf of our Society and all of the students who entered the AAS 241 Chambliss competition, I would like to thank the AAS Executive Office staff and all of the many, many member volunteer judges. It is all of you who help to make this very important competition such a big success!
Here are our AAS 241 Chambliss Judges* — thank them when you see them next:
Adam Ritchey, Adam Smercina, Akash Gupta, Akshatha Vydula, Alec Hirschauer, Alexander van der Horst, Alexandra Greenbaum, Alice Monet, Alice Jacques, Allison Towner, Amy Steele, Andrew Repp, Andrew Saydjari, Angelica Rivera, Anirudh Chiti, Anna Payne, Anna Trindade Falcao, Anna Wright, Ashley Zauderer-VanderLey, B. Welch, Ben Boizelle, Benjamin Coughenour, Benne Holwerda, Bergsten, Binbin Zhang, Brianna Smart, Briley Lewis, Bruce Balick, Bryan Miller, Caitlin Witt, Casey Law, Cassandra Fallscheer, Charles Steinhardt, Charles Law, Charlotte Christensen, Chelsea Sharon, Chiara Mingarelli, Chris Martin, Chris Stockdale, Chris Lintott, Christina Richey, Christopher Palma, Christopher Rooney, Clara Martínez-Vázquez, Curtis McCully, Dana Louie, Daniel Tamayo, David Wake, David Rupke, David Rice, Deborah Good, Denise Smith, Denise Stephens, Dhanesh Krishnarao, Dominique Segura-Cox, Edward Montiel, Elizabeth Griffin, Eltha Yu-Hsuan Teng, Emily Gilbert, Eric Hintz, Eric Schlegel, Erik Monson, Erin May, Erin Flowers, Ethan Siegel, Ethan Vishniac, Fatima Zaidouni, Grace Telford, Graham Edwards, Hans Krimm, Hayley Roberts, Henrike Fleischhack, Ilija Medan, Ivey Davis, Jack Warfield, Jackie Villadsen, James Jackman, James D. Windsor, Jane Huang, Jared Siegel, Jason Wright, Jean Perkins, Jeff Carlin, Jennie Paine, Jennifer Sobeck, Jennifer Scott, Jenny Calahan, Jessie Runnoe, Joel Roediger, Joel Ong, Joey Key, John Martin, johnny w. powell, Joleen Carlberg, Jonathan Crass, Jordan Mirocha, Josh Dillon, Joshua Lothringer, Juan Madrid, Julia Kamenetzky, Julian van Eyken, Juliana Garcia-Mejia, Justin Pierel, Kameswara Mantha, Kate Follette, Kate Storey-Fisher, Kathleen Kraemer, Kathryn Neugent, Kelly Douglass, Kelly Hambleton, Kendall Sullivan, Keri Hoadley, Kevin Croker, Kiersten Boley, Kim Venn, Kimberly Emig, Kirill Tchernyshyov, Knut Olsen, Chip Kobulnicky, Kyle Finner, Kyle Kabasares, Kyle Conroy, L. Y. Aaron Yung, Lauranne Lanz, Lauren Weiss, Lent Johnson, Logan Jones, Mansi Padave, Margaret Lazzarini, Mariah MacDonald, Mark Popinchalk, Marshall Johnson, Max Kurzner, Megan Johnson, Melinda Soares-Furtado, Meredith Powell, Michael Eracleous, Michael Rodruck, Michael Busch, Michael Rutkowski, Michele Silverstein, Michelle Hui, Mike Alexandersen, Miles Currie, Natalie Gosnell, Nathan Sandford, Nicholas Saunders, Nicole Granucci, Nicole Arulanantham, Nikko Cleri, Nivedita Mahesh, Nondh Panithanpaisal, Nora Shipp, Paul Bennet, Peixin Zhu, Peter Senchyna, Phil Massey, Phill Reed, Pipit Triani, Prasiddha Arunachalam, Randolf Klein, Ray Garner, Raymond Frey, Rebekah Purvis, Robyn Sanderson, Roman Gerasimov, Ronald Samec, Roohi Dalal, Roy Kilgard, Ruby Byrne, Ryan Keenan, Ryan Felton, Ryan Norris, Samuel Yee, Sarah Vigeland, Sarah Peacock, Sarah Morrison, Sarah Betti, Scott Legeza, Scott Fleming, Sean Pike, Sebastian Gomez, Shany Danieli, Shaunak Modak, Simon Coude, Siyang Li, Sofia Sheikh, Steffanie Peterson, Stephanie Douglas, Stephen Lawrence, Subhajeet Karmakar, Sumit Dahal, Susana Deustua, Sylvia Biscoveanu, Ted Bunn, Terry Oswalt, Thomas Montemayor, Tobin Wainer, Tom Donlon, Tonia Venters, Tonima Tasnim Ananna, Trey Wenger, Tri L. Astraatmadja, Tyler Richey-Yowell, Victoria Catlett, Viraja Khatu, Warren Skidmore, Will Armentrout, William Kenworthy, Xiaowei Ou, Xinghai Zhao, Yakov Faerman, Yicheng Guo, Yu-Ching (Tony) Chen, Yu-Heng Lin, Yuanyuan Zhang, Yuhan Yao, Yutaka Hirai, and Zachary Hartman.
*If you identify any omissions or errors, please email me any corrections.