22 November 2019
Welcome to the New Sky & Telescope Web Store!
Peter Tyson, Editor in Chief, Sky & Telescope             Kevin B. Marvel, Executive Officer, AAS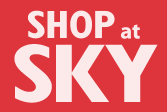 Shop at Sky, the new Sky & Telescope web store, is officially open! The site has been offline since August, but it's back now, and we are thrilled to have it up and running in time for your holiday shopping.
Transitioning the store's web infrastructure from S&T's previous owner proved to be much harder and more complicated than anyone at the AAS imagined. We apologize for the resulting delay, but we took our time so that everything would work correctly to make your browsing and purchasing experience as effortless as possible. We may not be Amazon, but our goal is to bring you unique products as easily and quickly as we can. We view ourselves as part of the community we serve, so getting things right is important to us.
As you know, the Sky & Telescope team works hard to bring interesting, valuable, and fun products to you, our community of astronomy enthusiasts. In the coming months we will roll out some new items as we get them developed and produced (like the eagerly anticipated eclipse-track Earth globe — it's awesome!). If you have ideas about other items you might like us to produce or carry, let us know. Although we can't promise to do everything, we'll carefully review any ideas we receive.
Thanks for your ongoing support of Sky & Telescope!