29 November 2022
Arriving Soon: 2023 Membership Renewal Mailing

Diane Frendak
American Astronomical Society (AAS)
Membership renewal reminders and dues invoices are on their way to your mailbox. AAS membership dues have not been increased, and we will continue to deliver value to the astronomical sciences community and engage our membership in an equitable, inclusive, and affordable manner. We're looking forward to 2023 and invite you to maintain your commitment to our community.
Remember that timing is key to securing your discount on author charges in 2023. You must renew your membership on or before 31 December 2022 to get your one-time 15% discount on your share of the author charges for one paper published in the Astronomical Journal, the Astrophysical Journal family, or the Planetary Science Journal in 2023. Don't miss out!
Not sure if you've already renewed? Log in at my.aas.org and look for your "Profile-at-a-Glance".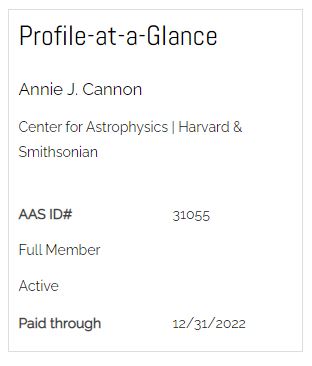 If your paid-through date is 31 December 2022 or earlier, then it's time to renew. If you receive the mailing but you've already renewed for next year, please consider using the return envelope to make a donation during our Fall 2023 Campaign! There's an AAS and Division Funds brochure in your mailing; featured funds include:
Annie Jump Cannon Award Fund
AAS General Fund
AAS Initiative Endowment Fund
Carbon Offsets Fund
If you need an invoice right away or need help logging into your member account, please contact the AAS membership team by email or phone at 202-328-2010. Thank you for your commitment to the astronomical sciences and your Society!
Related Post