10 April 2023
Highlights from AAS Nova: 26 March - 8 April 2023

Kerry Hensley
American Astronomical Society (AAS)
AAS Nova provides brief highlights of recently published articles from the AAS journals, i.e., The Astronomical Journal (AJ), The Astrophysical Journal (ApJ), ApJ Letters, ApJ Supplements, The Planetary Science Journal, and Research Notes of the AAS. The website's intent is to gain broader exposure for AAS authors and to provide astronomy researchers and enthusiasts with summaries of recent, interesting research across a wide range of astronomical fields.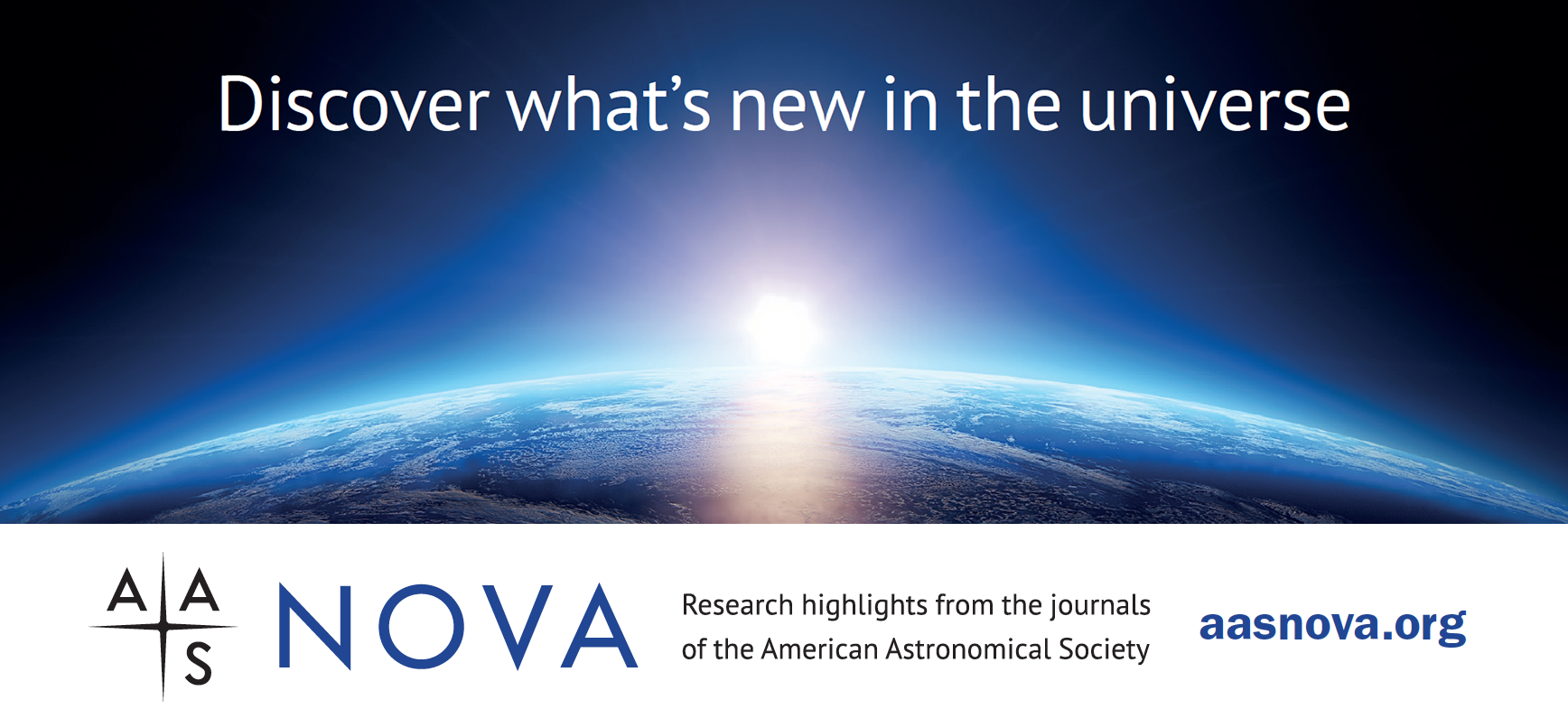 The following are the AAS Nova highlights from the past two weeks; follow the links to read more, or visit AAS Nova for more posts.
7 April 2023
First Detection of Hot Molecular Cloud Cores in the Small Magellanic Cloud
The discovery of hot, star-forming cores in the Milky Way's galactic neighbor lends insight into the formation of massive stars in metal-poor galaxies.
5 April 2023
A Simple New Way to Determine Magnetic Fields in the Solar Corona
Researchers rely on complex models to estimate the magnetic field of the Sun's upper atmosphere. Could there be an easier way?
3 April 2023
Featured Image: Detecting Dust in the Local Universe
Maps of nearby galaxies using data from the Herschel Space Telescope give researchers a new perspective on dust evolution.
31 March 2023
Different Pipelines, Different Atmospheres?
Converting raw JWST data into an inventory of an exoplanet's atmosphere requires many modeling choices. Recently, a new study investigated the implication of these choices, and dove into how astronomers' assumptions influence their conclusions about what molecules float about in exo-airs.
29 March 2023
Focusing on the Brightest Gamma-Ray Burst of All Time
A new Focus Issue of the Astrophysical Journal Letters takes a close look at GRB 221009A: a spectacular once-in-ten-millennia event.
27 March 2023
X Marks the Spot: A Treasure Map for High-Energy Cosmic Rays
Where should we start our search for the highest-energy cosmic rays? A recent research article maps out a possible answer.
Related Posts