26 April 2023
Nominations Open Soon for 2024 AAS Prizes

Alice Monet
US Naval Obs. (retired); AAS Secretary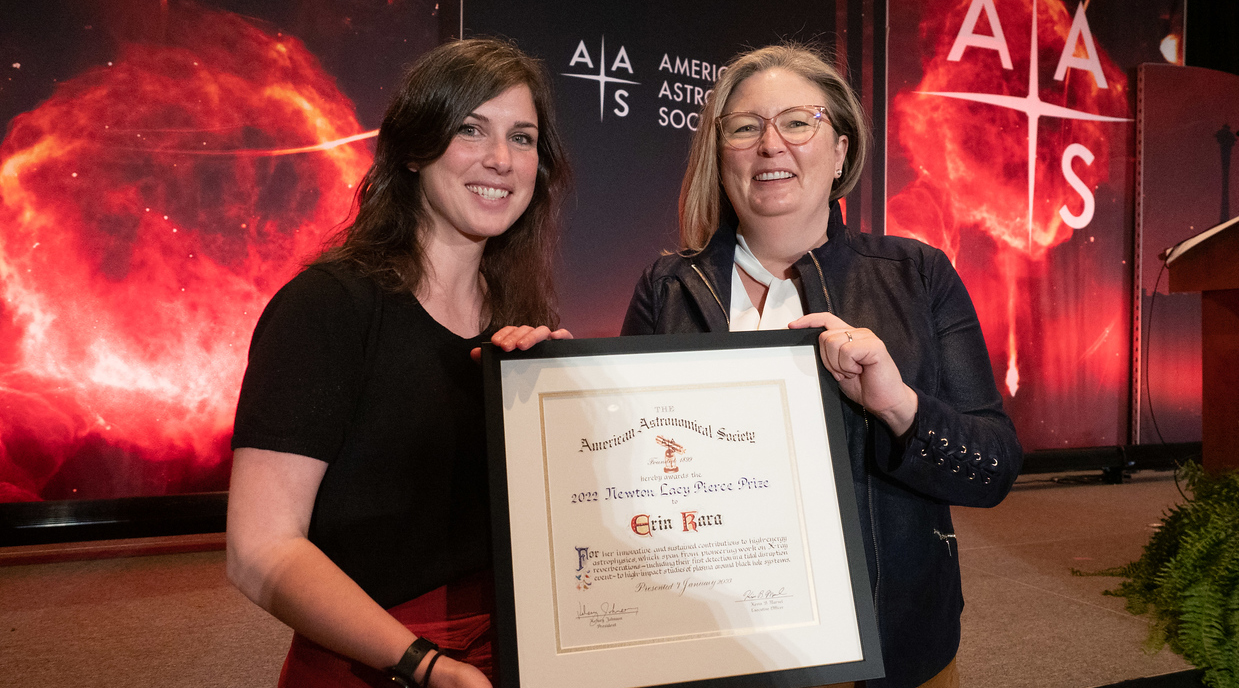 It's that time again — the kickoff of the next round of AAS prizes! Nominations will open soon for the following prizes and honors:
All AAS members may submit nominations, either for themselves or for others. Nonmembers will not be able to nominate; so if you can't get into the system, make sure your dues are paid, or ask a member to submit the nomination. Eligibility rules for each prize are given on the individual prize web pages. Please click on the name of the prize above to see the details.
If you haven't submitted a nomination since the AAS switched to a web-based prize system, you may be surprised by how the process has changed. Almost every aspect of submitting nominations has changed — for the better, we hope!
Nominations now require input from both the nominator and the nominee. Yes, this means you can't nominate someone without "spilling the beans." All nominees will know they have been nominated. While this may frustrate some who feel that those not selected for a prize will be disappointed, this will allow all nominees to submit the latest and most accurate information on their research and other achievements. Everyone will be able to "put their best foot forward."
Another key change is that all nominees are required to submit a professional ethics self-disclosure if they wish to be considered for a prize. This step is entirely confidential — only the prize administrators will see these disclosures, and any that require discussion will be forwarded to the Code of Ethics Committee, exclusively.
For several years, self-nominations have been encouraged for all AAS prizes. This feature was introduced in part to allow greater diversity among prize nominees. Because demographic information is not requested as part of a nomination, it is difficult to assess whether this goal has been achieved. But many self-nominations are submitted each year, which at the very least shows that our members are taking advantage of this option.
The identity of nominators is not shared with the prize selection committees, so the reviewers will not know whether they are seeing a self-nomination or the nomination of someone else. This is done to prevent unconscious bias from creeping into the review process.
There is now a limit on the length of documents submitted with the nominations. The review committees need to know what each nominee has accomplished that makes them particularly deserving of the prize. Thus each nominee is asked to provide a curriculum vitae, bibliography, abstracts of relevant publications, or other evidence of their exceptional contributions to their field. As for many research grant proposals, nominees are asked to keep these documents concise and focused.
Every year, there are questions regarding the early career prizes and whether extensions of eligibility are allowed for career interruptions. In fact, the rules vary by prize. For the Cannon and Pierce prizes, extensions may be allowed due to documented family or medical leave. This is not the case for the Warner Prize, however. The details for each prize are available on the individual prize web pages.
Nominations currently have a deadline of 30 June. This deadline applies to the letters of support as well, so nominators need to allow time for the letters to be written and submitted. Don't wait until the deadline to submit a nomination! It would be best to allow a minimum of two weeks from the nomination submission to the deadline.
If you have questions about the prizes, please contact aassec@aas.org. If you need help with the website or have other technical problems, please contact neelab.yousafzai@aas.org.