12 July 2023
Astronomy Festival on the National Mall
Diana Hannikainen
Sky & Telescope

Tom Rice
American Astronomical Society (AAS)
On 24 June, throngs of astronomy enthusiasts converged on the Smithsonian's Arts and Industries Building in Washington, DC, to participate in the Astronomy Festival on the National Mall. Don Lubowich, an AAS member and Coordinator of Astronomy Outreach at Hofstra University, first organized this public event in 2010 and it's been an annual affair (barring the pandemic years) ever since. For the festival, local DC-area amateur astronomers bring their telescopes to the Mall for an inspiring stargazing experience open to everyone. And this year, Tom Rice and I were lucky enough to join them, along with dozens of clubs and institutes, to showcase astronomy to an eager public. Even as the threat of thunderstorms moved the event indoors, it was nevertheless a roaring success.

Tom and I represented the American Astronomical Society (AAS) and Sky & Telescope (S&T), official sponsors of the event; other sponsors included George Mason University and the US Naval Research Observatory, among many others. We had loads of fun setting up the AAS/S&T table in the cavernous Arts and Industries Building, laying out demo issues of S&T, make-it-yourself star wheels, stickers and promotional cards, and general information on the Society and the magazine. Two globes — one depicting the constellations and the other showing the paths of all solar eclipses in the 21st century — adorned the table. With the upcoming annular in October this year and the total solar in April 2024, there was much eclipse talk around the table.
Because of the impending bad weather, we had anticipated a trickle of participants. Instead, a crowd of curious and enthusiastic people of all ages gushed in as the clock struck 6:00 pm and continued to pour in throughout the evening. We fielded questions on how star wheels work, why solar eclipses happen, what are constellations . . . For three solid hours, we engaged with curious and enthusiastic people of all ages — noise levels in the building were sky-high and we ended up being quite hoarse the following day. But it was worth it.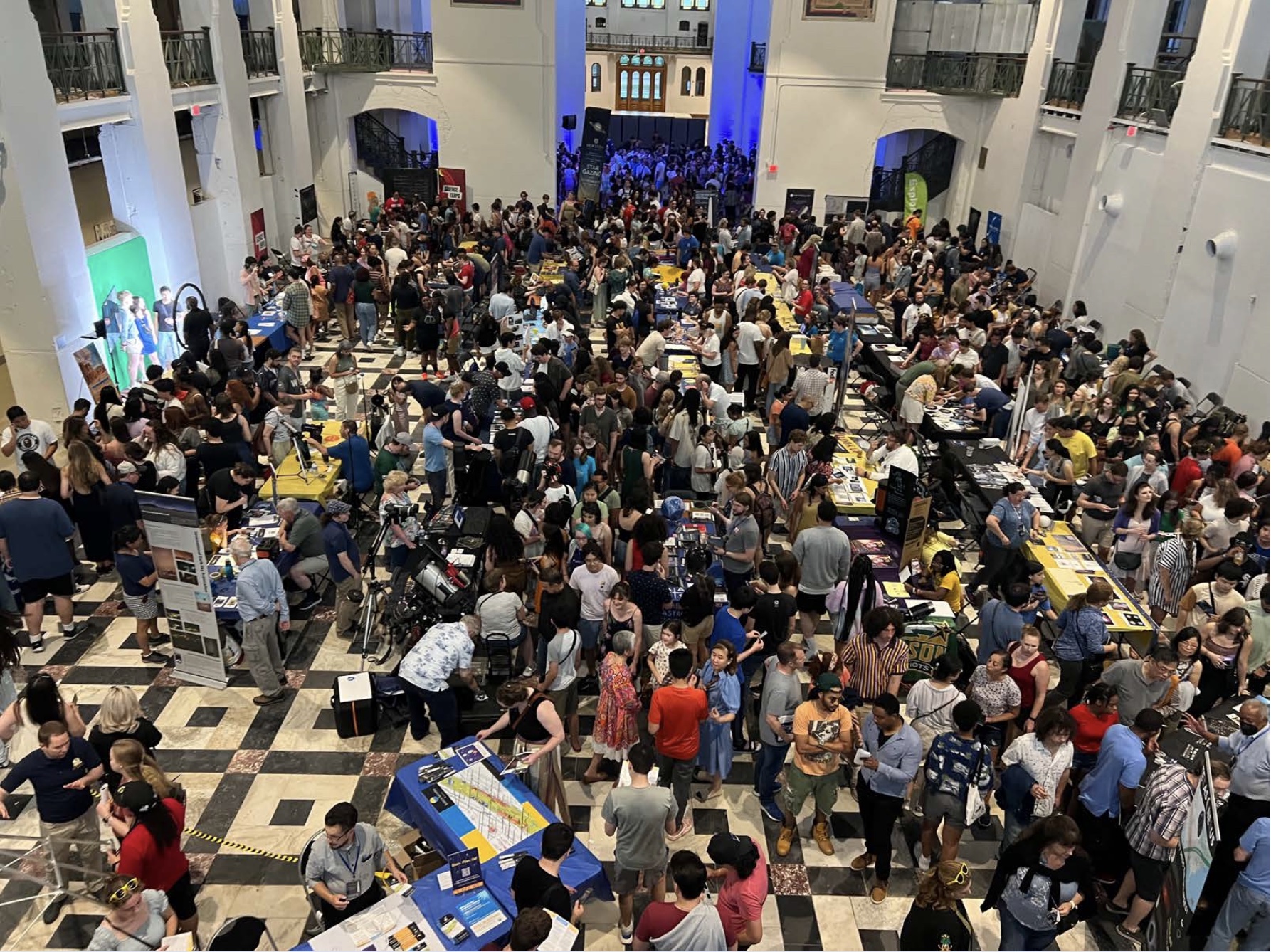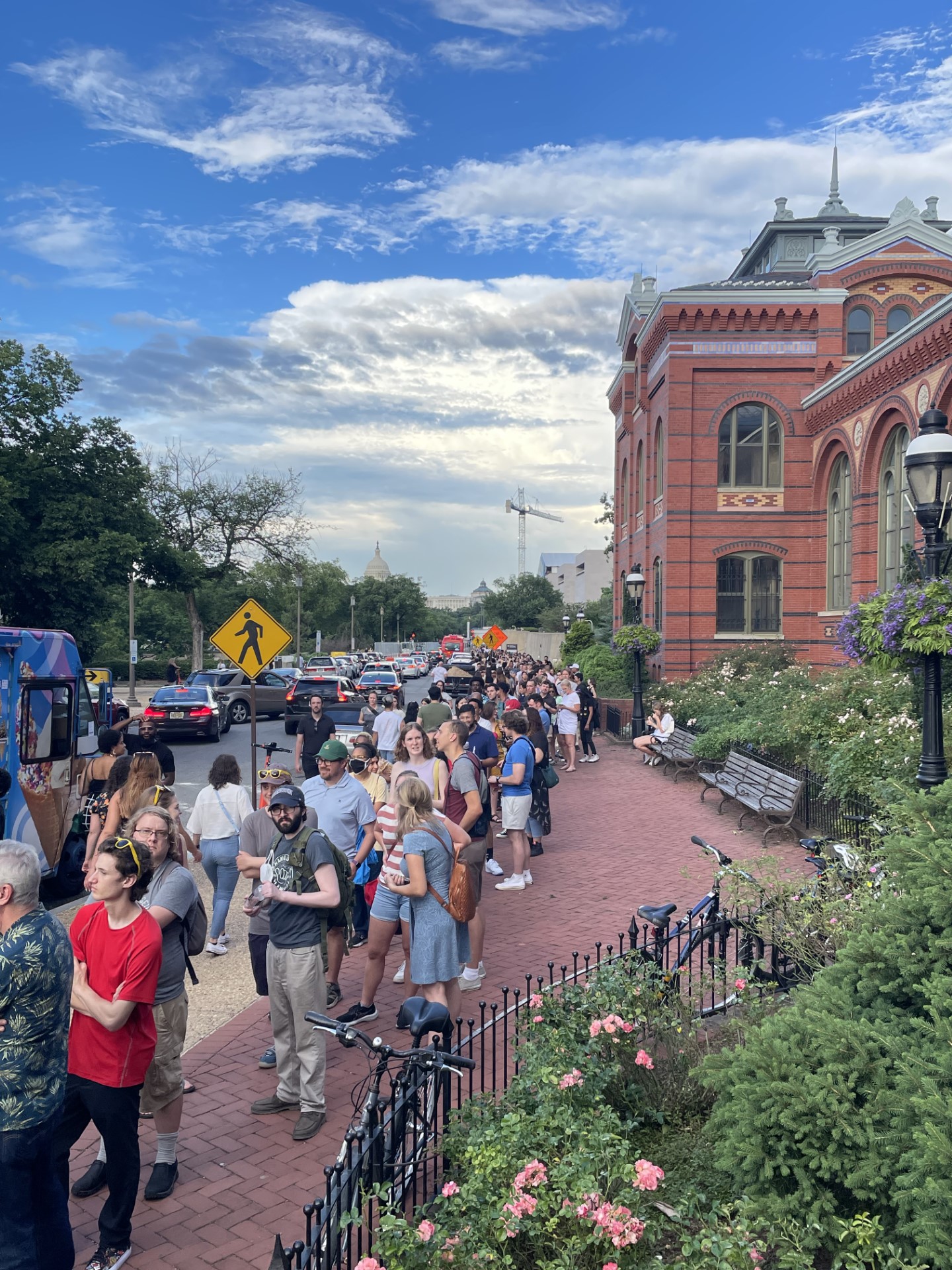 And not all was lost outside. The threatening thunderstorms never materialized and local amateurs had set up solar scopes right outside the building. After darkness fell, some festival participants lugged their scopes outdoors and showed eager stargazers the Moon and Venus, with the Washington Monument creating a stunning backdrop against the evening sky.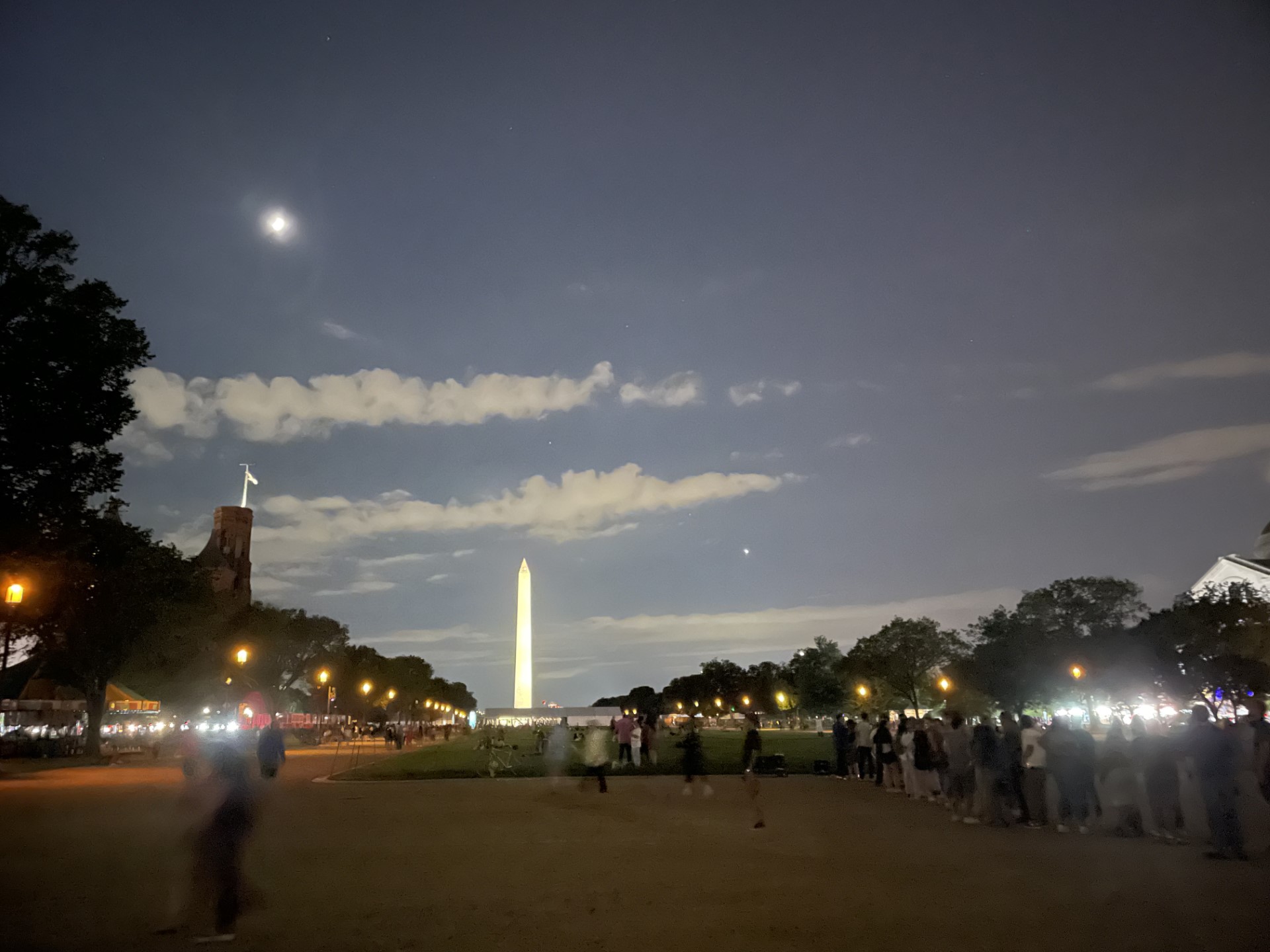 Lubowich estimated that up to 3,000 visitors stopped by the astronomy tables. That's a lot of people venturing forth on a (potentially) stormy Saturday evening to participate in an astronomy festival indoors. Just goes to show how inspiring astronomy is.