28 July 2023
Solar Eclipse Planning Workshop to Precede DPS-EPSC 2023 in San Antonio & Online

Richard Fienberg
American Astronomical Society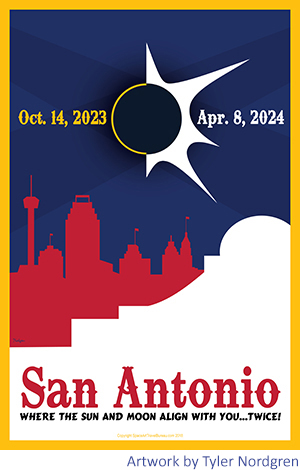 The AAS Solar Eclipse Task Force will host a solar eclipse planning workshop Friday-Saturday, 29-30 September 2023, at the Scobee Education Center at San Antonio College, 1819 N. Main Ave., San Antonio, TX, 78212. This workshop, cohosted by the University of Texas, San Antonio, will precede the 55th annual meeting of the AAS Division for Planetary Sciences, which will be held jointly with the Europlanet Science Congress at the Marriott Rivercenter, 1-6 October. (Registration for the two events is separate.)
The Simons Foundation is partnering with us to develop the workshop program, and we gratefully acknowledge NASA for financial support through a cooperative agreement.
The workshop will be conducted in a hybrid format, accommodating both in-person and remote/virtual attendees. All plenary sessions and most breakout sessions will be accessible in real time to off-site attendees via Zoom Events. Such sessions will be recorded and made available freely after the workshop. Note: This likely will be the last of our hybrid eclipse planning workshops before the October 2023 and April 2024 American solar eclipses.
The preliminary program is online, and registration is open! You may attend in person or virtually (via Zoom Events). Space for in-person registrants is limited, so don't delay. Registration rates: In-person (both days): $100; In-person (one day): $50; Virtual/remote: $35.
All registrants will receive a Zoom Events link, so even if you attend in person for just one day, you'll still have access to both days virtually. Registration deadline: 27 September 2023.
If you'd like to give a brief talk, review the program, then tell us what topic you'd like to address and what the audience will learn from you. Talk proposal deadline: 25 August 2023.
Registered attendees are invited to submit PDF posters. These will be made available online for attendees to download and read. Poster submission deadline: 26 September 2023.
Register to Attend     Propose a Talk     Submit a Poster
Visit our Solar Eclipse Planning Workshops page to learn more about these events and to view presentations and posters from past workshops.
Questions? Comments? Suggestions? Email the AAS Solar Eclipse Task Force.